Montclair High School Teachers Start Their School Year with NexGen Orthopedics!
The summer is coming to an end with the start of a new school year, a busy and demanding season for all teachers. Those dealing with pain may find the transition from relaxation back to the fast-paced work environment difficult to adjust to.
Teachers may develop back pain, shoulder pain, knee pain, neck pain, and more due to the demands of being on their feet all day every day tending to students. Teachers who double as athletic coaches may develop even more pain in these areas.
It may not seem to be an obviously physical career to some, but public education staff are constantly on the move, leading to possible wear and tear on certain parts of their body, leading to body pain.
At NexGen Orthopedics, many of our active patients are public school teachers and employees. Our preventative care and ultra-minimally invasive procedures provide effective treatments with a quick recovery time, essential to the demanding schedule of a teacher.
Dr. Lloydine Jacobs has a passion for giving back to teachers because of her immensely deep connection and admiration for our education system. Her father, Lloyd Jacobs Sr., was Antigua and Barbuda's Minister of Education where he revamped the educational system for the entire country.
After serving as their first ambassador to the United Nations in New York, her father, as well as her mother, continued to teach in the New York public school system for decades. This played a crucial role in Dr. Lloydine Jacobs academic excellence – graduating high school at only 15 years old and medical school at 22 years old.
Dr. Lloydine Jacobs holds great admiration for the all the dedicated and hard-working teachers who guided her through her education, helping her carve her path to success. Because of this admiration, Dr. Lloydine Jacobs continues to incorporate building relationships with public school teachers, giving back and providing preventative treatment and ultra-minimally invasive procedures.
On September 4th, Dr. Lloydine Jacobs and the NexGen Orthopedics staff hosted Montclair High School's Teacher Development Day lunch for over 200 staff members to show appreciation for their hard work and the start of a new school year.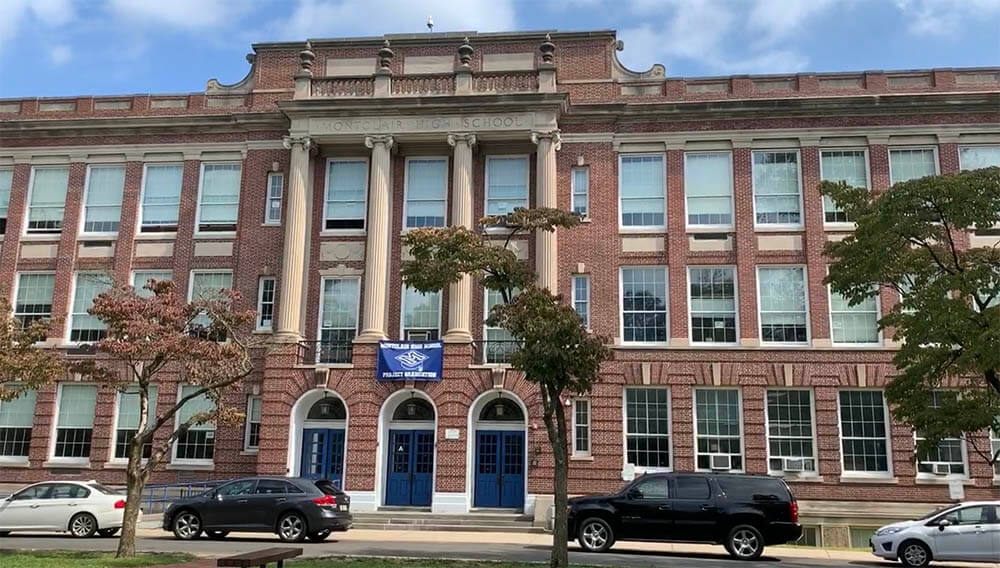 With donations including teacher supplies and backpacks full of school necessities for underprivileged students, Dr. Lloydine Jacobs and Montclair High School staff were able to come together to start the new school year in a positive light.
Dr. Lloydine Jacobs met with the teachers throughout the lunch, listening to each one's concerns and questions regarding the various orthopedic issues they were experiencing, as well as the treatment plans offered here at NexGen Orthopedics. Discussing preventative care, ultra-minimally invasive procedures, and laser surgery, Dr. Jacobs was able to inform the staff of treatments that can be tailored to their benefit and personal needs.
Through speaking with the Montclair High School staff, we found that this group of teachers had one major concern that they were looking to avoid – surgery.
Much of the staff spoke about how their current doctors are inclined to jump right into major invasive surgery, procedures they are not ready for. In search of an alternate second opinion, Dr. Lloydine Jacobs was able to explain the minimally invasive treatments provided here at NexGen Orthopedics, a beneficial alternative to avoid the need for major surgery.
At NexGen Orthopedics, all patients participating in a treatment plan are subject to complimentary personal training sessions, IV vitamin infusions, and massage therapy. All are extremely beneficial to recovery and the longevity of treatment!
Dr. Lloydine Jacobs discussed with the staff why she includes these services in her patients' plan of care. The importance of a quick recovery and successful treatment stretches beyond the treatment day itself.
Personal training sessions are key to the NexGen Orthopedics approach in that our trainers help to guide patients in performing various exercise techniques in the proper form. This process helps to prevent the possibility of further injury but helps patients learn necessary techniques to utilize on their own as well. Massage therapy is beneficial to improving circulation, reducing pain, and reducing the overall stress of a patient – key to an effective and quick recovery. IV vitamin infusions administer vitamins directly into the bloodstream to further benefit our patient's recovery and daily health.
The Montclair High School staff enjoyed an informative lunch in which they were able to discuss NexGen Orthopedics' treatments that fit into their needs and lifestyle. Finding an orthopedic office that focuses on preventative care and ultra-minimally invasive treatments was made readily available to those who need this approach.
Dr. Lloydine Jacobs enjoyed learning more about the Montclair High School staff and what they are looking for in a physician and what she can do to benefit their day-to-day life at the start of this fresh new school year.