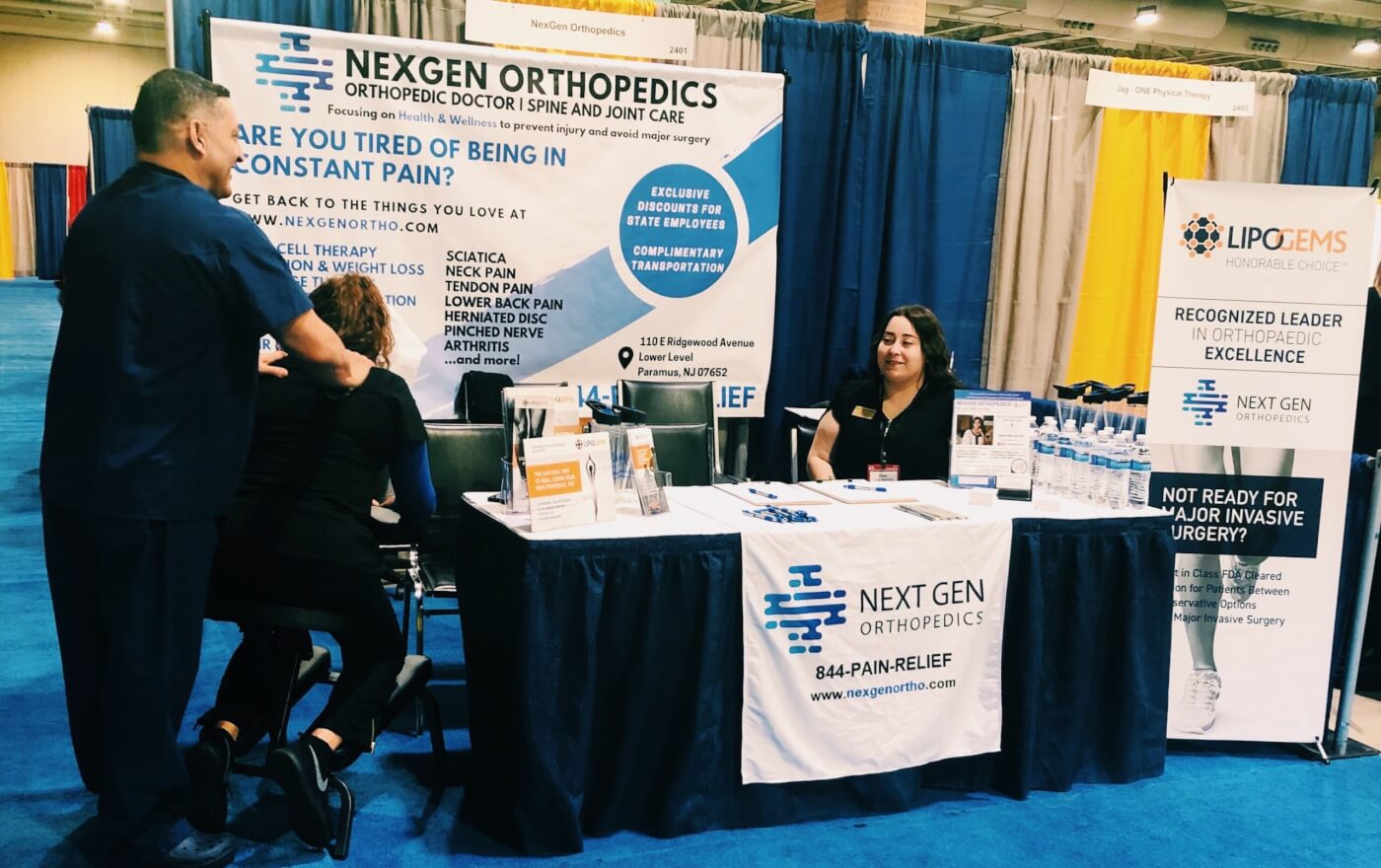 NexGen Orthopedics goes to the NJEA Convention 2019
The New Jersey Education Association is an organization that works for and contributes to public education and its staff across the state of New Jersey. The New Jersey Education Association maintains a mission to protect the rights, benefits, and interests of its members while simultaneously working to improve the quality of the state public education system for all students.
The New Jersey Education Association hosts its annual convention every fall; creating a space for teachers, administrators, corporations, higher education, and other various attendees to exchange ideas and services among each other.
Being that the New Jersey Education Association holds a large emphasis on improving the quality of life for all its members, Dr. Lloydine Jacobs knew that our mission at NexGen Orthopedics coincided with that of the New Jersey Education Association.
Dr. Lloydine Jacobs has a passion for giving back to teachers and working with students due to her immensely deep connection and admiration for our education system. Her father Lloyd Jacobs Sr. was Antigua and Barbuda's Minister of Education where he revamped the educational system for the entire country. He went on to become their first ambassador to the United Nations in New York City. After his time at the UN, her father and mother continued to teach in the New York City public school system for decades.
Before her father passed, he asked Dr. Jacobs to promise him that when she became a doctor, she would do all that she could for educators and for students. She has taken that promise to heart and continues to dedicate her time to giving back to teachers and students to honor his life and work.
Dr. Lloydine Jacobs has always had a mission to partner with various school districts to provide staff with resources and supplies while simultaneously working with students to inspire their future goals and ambitions.
Dr. Lloydine Jacobs and our staff here at NexGen Orthopedics attended the NJEA Convention in Atlantic City this past weekend. We networked with teachers from various counties in New Jersey to provide more information regarding our preventative care and ultra-minimally invasive treatment options. Dr. Lloydine Jacobs also looked to obtain information regarding what contributions teachers and public schools are in need of, directly from the perspective of the teacher, and how our practice could be of any assistance.
Our booth included free massages for attendees, a small look into what treatment at NexGen Orthopedics is like. Many NJEA attendees learned about the benefits of massage therapy and why we incorporate it into all of our preventive and ultra-minimally invasive treatment plans. All patients of NexGen Orthopedics receive complimentary massage therapy, personal trainer sessions, and IV vitamin infusions with their treatment.
Massage therapy is a great outlet to decrease a patient's overall stress. Massage therapy also improves circulation, reduces chronic pain, eliminates toxins in the body, and reduces fatigue.
Throughout the two-day convention, we dedicated our staff to giving attendees a glimpse of what it means to be a patient of Dr. Lloydine Jacobs at NexGen Orthopedics. Equipped with our exceptional massage therapist, NJEA attendees were able to take break from a busy weekend of being on their feet all day. In the high energy setting of a convention, Dr. Lloydine Jacobs aimed to provided attendees with a moment of relaxation in an otherwise hectic weekend.
Many attendees developed a strong interest in our services and our holistic approach to treating pain. We provided a space for those dealing with painful conditions to educate themselves on what preventative and ultra-minimally invasive treatment is and the various conditions it can treat, and more specifically how utilizing our services can prevent injury and avoid major surgery. Dr. Lloydine Jacobs services treat conditions such a lower back pain, neck pain, sciatica, pinched nerve, herniated disc, sports injuries, tendon pain, and so much more.
Overall, the NJEA Convention was a success for both our NexGen Orthopedics staff and NJEA attendees. We loved meeting so many teachers from all over the state, learning more about their schools while also examining how we can help them with any orthopedic, spine, or joint issue they are dealing with and have been unable to find relief from.
We can't wait to hear from those we had the pleasure of meeting at the NJEA Convention, call us now at 844-PAIN-RELIEF!