PATIENT TESTIMONIALS
What our patient say about NEXGEN Orthopedics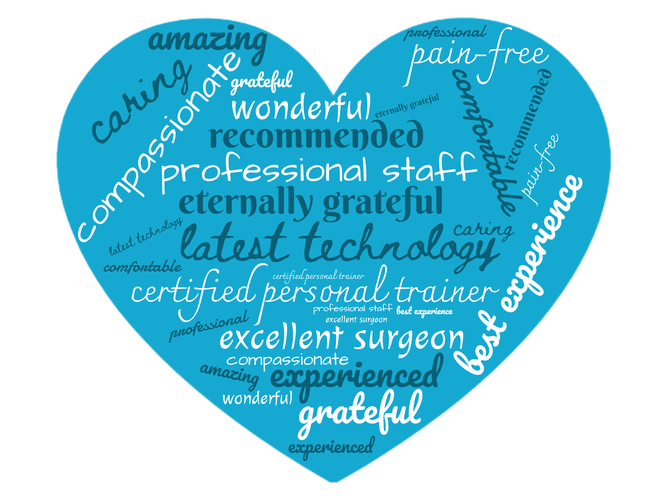 "I'm always nervous about going to the doctor but doctor Jacobs made me feel very comfortable right away & my procedure was pain free. Ivens is the fitness professional & really knows what he is doing. He got me back in shape & back to work in no time. He customized the workout specifically for my needs. I highly recommend them."
"I walked into Next-Gen Orthopedics a little under one year ago. The reason for my visit was severe lower back pain. The pain became part of my life and it was just something that was a part of me, never thinking it would go away again. Dr. Jacobs was great from the start. Unlike any other doctors I have visited so far in New Jersey, she genuinely cared for my well being. Her practice caters to my specific needs and within a week from my visit, I had undergone a MRI which showed- as explained and shown by Dr. Jacobs- two disks in my lower spine that were close to being herniated. It was what I expected, but the treatment offered was new to me. I underwent stem-cell injection surgery and within 6 weeks I started to feel like my old self again, prior to my years of daily pain. On top of this all, they don't just shake your hand and send you away after that- it was quite the opposite. This was only the beginning. I met with Ivens, their knowledgeable and certified personal trainer and physical therapist. He became as much as a mentor as he became an inspiration to me. Not only was I relieved of most of my pain, I finally started to understand my entire body. It took me to turn 34 for someone finally to show me "the way". I train better, I sleep better, I'm more aware and alert when it comes to correcting my bad posture, bad sitting and leaning habits, and my workouts in the gym are improving. Stepping into this office was on of the best decisions I've made in my adult years. If you are suffering from lower back pain, or any other similar type of pain, I highly recommend that you just walk in and say hi. The staff is super friendly and courteous. I've seen Dr Jacobs taking the time to step away from her desk just to say hi to current and new patients and I'm sure she will do the same for you."
"Absolutely without question the best experience I have ever had in the medical field. Dr Jacobs is not only knowledgeable but genuine and caring. She is regularly checking in with me to see how I feel and gauge the progress I am making. She is in a word ....amazing. She has put me on a path of healing that many doctors before said was not possible without invasive surgeries and meds. Dr. Jacobs has not only assisted in making me feel better than I have in decades, she has done so with minimal surgery, no meds, and significantly less time. She has given me hope. The Therapists Ivens and Paula are outstanding. I have never met more knowledgeable people in the industry and I have been to many. Not once have I walked out of therapy in pain. They both are able to root out the problem and ease the discomfort. Their knowledge is only superseded by their compassion. They genuinely care about my well being and are an amazing team who's skill set, in my humble opinion, is unmatched. Every suggestion they have for home health care and maintenance has been spot on. I am self correcting and self managing symptoms solely because of the guidance they pass along The techs, receptionists, the entire staff are first class. I walk in feeling like a rock star and walk out pain free and happy. I wholeheartedly endorse NextGen. They have changed my life."
"If I could give Dr. Jacobs more stars I would. As an aging lifetime sports fanatic I had developed, over time, a series of issues with my shoulders and knees. Every doctor I went to immediately jumped to a surgery based solution, and some recommended that I stop running, cycling and being active - but not Dr. Jacobs. Her goal was to get me healthy so I could remain active. Her holistic, minimally invasive approach to care got me back on track with my sports activities. From treatment to on-going post treatment care (led by Ivens, the best PT/re-hab professional I've worked with) offered a unique approach to total patient care - I highly recommend her and her wonderfully professional staff."
"Dr. Jacobs and her entire staff at NexGen Orthopedics are professional and caring with your health as their top priority. Dr. Jacobs was informative from day one with the diagnosis and treatment. Ivens and Paula are true professional therapists who helped me recover. I highly recommend NexGen Orthopedics."
"I'm very thankful to Dr. Jacob's and the staff of the clinic. She really help me with my health condition, she is very kind and generous, also I wanna mention my two therapist Ivan and Paula two true professionals that give me my life back, obviously nothing is easy no pain no gain and is very worthy. I was very lucky to find Dr. Jacob's and her staff of professionals, I highly recommend this orthopedic center."
"I need to thank Dr. Jacobs because for the first time in 20 years, I have absolutely ZERO PAIN IN MY BACK!!!' I know I'm only experiencing that because the injection was there and the disk hasn't repaired yet but to even just have a brief moment in time with no pain.....it's getting an emotional reaction! Thank all of you soo much!!! I'm eternally grateful!!!"
"I have been a police officer for 23 years and as most will agree, the job takes a physical toll on your body. This facility is really amazing. The staff is overly friendly and accommodating. Dr. Jacobs is calm and informative. She explains everything to you in specific detail. She is also a very good listener. Ivens is in charge of the physical therapy and he is equally gentle and knowledgeable about rehabilitation. He pushes when its needed, but doesn't overdo it. The whole experience was a level above any other care facility that I have ever been! Great job, keep it up! "
"I was recently scheduled to get surgery on my right shoulder. Prior to the surgery date, I made an appointment to see Dr. Jacobs for a second opinion. After consulting with Dr. Jacobs, I decided to try stem cell treatment. After I had gotten the treatment, I decided to cancel the surgery entirely. I consulted with her personal trainer, Ivens, and he found that my right elbow which had been in pain for at least 10 year was exacerbating my shoulder injury. After the aforementioned stem cell treatment and massage treatments to my elbow and shoulder, I feel better and better after each treatment. I highly recommend Dr. Jacobs and am grateful for her abilities and not so eager focus on surgical interventions!"
"Dr. Lloydine Jacobs assessed the problem and then discussed surgery. She explained it in detail. The day of the surgery she explained the procedure again and answered any questions. She demonstrated true caring and made me feel relaxed. On the follow-up she listened in detail and explained the recovery procedure. It was truly a blessing I found her!"
I had a consultation with Dr. Lloydine Jacobs for a 2nd opinion on upcoming surgery. She listened attentively to all my concerns regarding knee replacement surgery, from the type of procedure, to the after-post operative care and treatment. As a result, I am changing from the surgeon I had scheduled and changing to Dr. Jacobs. Anxiety has departed and been replaced by a sense of well-being, knowing I'll be in good hands of someone who will listen to my concerns."
"I generally do not like visiting doctors. But, I was reassured at every turn that I was getting the best treatment possible."
"So happy to finally have answers to my neck and back issues. The Doctor made me comfortable. She took her time making sure I understood all of my options. She was very kind a patient. I would highly recommend her."
"The best. The doctor was very understanding, I really felt for the first time someone was able to know the pain I was having and feeling. Thank you very much."
"Dr. Lloydine Jacobs was absolutely wonderful. She spent the time with me to explain everything in detail. I trusted her and would give her a high recommendation to anyone who needed a wonderful person and Doctor."
I was so blessed to have Dr. Lloydine Jacobs as my doctor I had never had surgery before and was hesitant about having surgery. With minutes I was so taken with her knowledge and compassion I was excited to get rid of the pain I had chalked up to my age. I can truly say she gave me my life back. Sincerely Bob of Staten Island"
During my 10 years of experience as an orthopedic & sports medicine vendor within the NY/NJ/CT/PA region, I have never met a surgeon that cares more about her patients then Dr Lloydine Jacobs. She is a highly trained fellowship surgeon, extremely thorough, pays attention to extreme detail, and is way ahead of the curve with new and emerging technologies in the marketplace. She will do what is best for her patients at any cost, and no matter what administrative pushback she may receive. Dr Jacobs has aligned herself with the best staff, best physical therapists, massage therapists, acupuncturists, and has by far the strongest post op team I have ever seen... I personally know from first hand experience as a patient. Dr Jacobs just recently performed a multi level Lumbar Discectomy, SI & Facet joint injection, and did a knee and shoulder arthroscopy while injecting LIPOGEMS in every single one of those discs, facets, and joints on Friday 5/24/19. I know hundreds of surgeons in the area, however she was the only one I trusted who could inject my spine, knee, and shoulder. Prior to the procedure I could not sit or stand for more than a couple hours without back stiffness, left knee pain, and I could not sleep through a night with shoulder pain. Just 3 weeks out from the procedure and with the help of a strong team, I am back to work full time, I no longer wear a knee brace on my left knee which I have worn the past 20 years, and my lower back feels strongest it has been with no restrictions. Although my shoulder is arthritic, my pain has decreased significantly, and my shoulder range of motion has increased significantly with the LIPOGEMS injection, physical therapy, and acupuncture. Dr Jacobs truly is a special human being, special doctor, and a special surgeon. She is critical of her own work, she thinks outside the box, and I would recommend her to anyone seeking an alternative to any major surgical procedure. More importantly she will provide the best care prior to procedure, provide the latest technology and care during the procedure, and strong team post op to make sure the patient is in a position to have a successful outcome.
"Dr. Lloydine Jacobs is very professional and knowledgeable in her profession. She explains everything in details and respects her patients. She is an excellent surgeon."